Changes in my lifestyle have transformed my life and made it possible for me – a 60-year-old woman with chronic illness – to climb the Eiger.
The medication I take has a huge positive effect on my quality of life and makes such a mad plan thinkable. But there is a big difference between feeling ok, with bearable pain and being able to manage to get through the day, and feeling really, really fit and strong and confident. And that is the change in the last two years since I became aware of the power of "lifestyle medicine".
"You've got to be kidding!" said my friend Jeannie about my plan to climb the Eiger over the Mittellegi ridge. Or maybe she thought that I was mad. After all, I have suffered from severe Spondyloarthritis and moderately severe Inflammatory Bowel Disease for decades. Thanks to "lifestyle medicine" I managed my disease and improved my well-being. It was a gradual process. No clinician has advised me to adopt these practices. I have had to sort through the available material and decide myself what is quackery and what is responsible advice.
I believe that without all these lifestyle changes…. I never, ever, could have climbed the Eiger at the age of 60!
What is lifestyle medicine?
According to the American College of Lifestyle Medicine, it uses evidence-based practice to help people adopt and sustain healthy behaviour that affects health and quality of life. Some Lifestyle health factors are now well-established: don't smoke; keep your weight under control; exercise regularly. But the benefits of taking these lifestyle changes even further don't seem to be recommended by most doctors. Perhaps they aren't proven enough, or not well-known, or not believed in. For whatever reasons, these are all things that I have found out more or less for myself.
Sleep: Worries, overwork or medication have all affected my ability to get a good nights' sleep in recent years. One source of support has been from Dr. Guy Meadows and his approach called ACT (Acceptance and Commitment Therapy). At the Sleep School he teaches how to overcome insomnia by observation and acceptance. It often works for me. However, the most important factor affecting my sleep is nutrition.
Nutrition: There has been a lot written about diet as a factor in controlling inflammatory diseases, but what I have discovered in the last 6 months or so, is that it is just as important when I eat, as what I eat. Through fasting I give my digestive system a period of down time when it doesn't have to digest new food and can rest and repair. I can feel how my gut is more relaxed, how much better I can sleep, and how energised I am.
Exercise: To keep my spirits up during Lockdown I made a plan "5 tips to manage your day" which included daily exercise. I used an online fitness programme with a huge of variety of options from stretching and yoga through pilates to PIIT (professional intensive interval training). It was amazing how doing this every morning for several months made me fitter than I could ever have imagined, despite never going far from my own house, let alone to the mountains.
Stress reduction: The key to stress reduction for me is a few minutes of mindfulness or meditation before starting the day. Collecting my thoughts and intentions by keeping a journal also helps.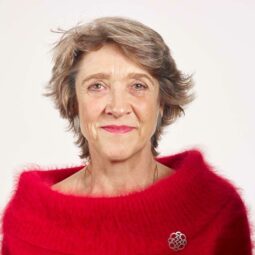 Judith Safford
Judith is an economist, who has dedicated her professional life to excellence in non-profit management. Affected by inflammatory arthritis since early adulthood, she works as a consultant and patient expert. Her special interest is the involvement of patients in healthcare. She is a member of the Sciana Health Leaders Network, a TED speaker and
writes a blog at arthritisandme.ch.
Future research
There needs to be much more research to provide evidence-based, mainstream recommendations for the benefit of all patients. The Spondylitis Association of America recently published an excellent webinar on lifestyle healthcare, but otherwise it's hard to find trustworthy information. I believe that if healthcare research were more centred on patients' well-being, rather than being driven by commercial considerations or personal aspirations, these areas would be given much higher priority.
An extended version of the blog post can be read on my own blog "Living with Spondyloarthritis".