News
2nd Consortium Meeting in Ioannina, Greece
There is always good collaboration and exchange between all COMPAR-EU partners at different stages. In addition to work package-specific meetings in which involved partners participate, all consortium partners meet once a year. This year, our second consortium meeting took place on 30th of September and 1st of October 2019 in Ioannina, Greece. UOI hosted this event. The two full working days with discussions on the status of the project development were very fruitful. The extraction process for the first disease (Diabetes Mellitus Type 2) has been largely completed and network meta-analyses of the effectiveness of self-management interventions can begin. We are also starting to develop our final product, the COMPAR-EU platform featuring decision aids. Consortium meetings are very crucial as they foster interactive group discussion and drive our work forward.
Moving Measurement into Action: Designing Global Principles for Measuring Patient Safety
Today, 5th of September, a new Salzburg Global Seminar program "Moving Measurement into Action: Designing Global Principles for Measuring Patient Safety" begins. Around 50 health care leaders from across the world will convene in Salzburg to help design global principles for measuring patient safety. The program is held in partnership with the Institute for Healthcare Improvement (IHI) and is part of Salzburg Global's Health and Health Care Innovation multi-year series. Additional support comes from the Gordon and Betty Moore Foundation and the Mexican Business Council Fellowship Program. Researchers, design thinkers, patients, providers, and experts in measurement and patient-safety will develop an actionable, cross-continuum framework for safety measurement.
Read the full preview
Go-Live of our Self-Management Blog
In June 2019, COMPAR-EU launched a Self-Management Blog that informs about developments in research, policy, and practice. Self-experience reports, interviews, guest articles, and more are published monthly. Beyond that, the COMPAR-EU team recommends monthly interesting scientific articles for reading.
The first blog article was designed by Jacqueline Bowman-Busato, a patient representative, who describes how she finally felt in control of her two chronic diseases. Read the full article "The importance of "self" and "management" in self-management of chronic diseases" on our blog.
You are interested in our recommended articles? Click "scientific article of the month".
You wish to read more about a specific topic or have an idea for a new blogpost? Write us to contact@self-management.eu
Update of COMPAR-EU Data Management Plan
The Open Research Data Pilot aims to improve and maximise access to and re-use of research data generated by Horizon 2020 projects and takes into account the need to balance openness and protection of scientific information, commercialisation and Intellectual Property Rights (IPR), privacy concerns, security as well as data management and preservation questions.
Data Management Plans (DMP) are a key element of good data management. COMPAR-EU drafted a first version at the start of the project and describes how the data will be handled during and after the project, the types of research data that will be generated or collected during the project, the standards that will be used, how the research data will be preserved and what parts of the datasets will be shared for verification or reuse. This plan will be updated periodically. The first revision focused on improving the adaptation of the FAIR principles: making data findable, accessible, interoperable and re-usable. To this end we designed a new annex where detailed dataset descriptions can be shared, supported by example excerpts of the data and an electronic file with the database structure can be embedded.
Poster presentation on the development of COS
A lot of interested people were attracted by our COMPAR-EU poster on

"Prioritisation of patient-important outcomes in self-management interventions" (click on it to see it in full screen mode). One of our partner, OptiMedis AG, presented the development of the Core Outcome Sets (COS) at the 3rd symposium of a national network of health services researchers on 6th of May in Hamburg, Germany. The delegates were particularly interested in the process of patient involvement in our project. Obtaining patients´ unique perspectives and experiences ensures  that research is relevant to patients. Self-management interventions aim to reduce symptoms, minimise disability, and improve quality of life. To determine the effectiveness of such interventions, patients´ views on the importance of such outcomes need to be considered.
The main emphasis of the symposium was on the transfer from research into practice. Questions like "How does implementation succeed?" and "What are the barriers?" were discussed from an international perspective. Really relevant to OptiMedis as the work package leader of WP9: Dissemination, exploitation and development of business plans. In COMPAR-EU, OptiMedis investigates various business models for the decision aids implementation and explores how the research findings can be best translated into routine clinical practice.
4th European Health Literacy Conference 14th – 15th of March 2019
"Health literacy (…) is not just nice to have. It is a 'must-have', and we 'must-invest' in enhancing it." (Claudia Stein, Director WHO)
"Building Health Literate Societies" was the overarching theme of this year´s European Health Literacy Conference on 14th and 15th of March 2019. The conference was hosted by the University College Dublin and Health Literacy Europe. The programme focused on how to advance research, policy and practice regarding people's capacity to access, understand, appraise and apply health information to improve their health and quality of life. In addition, the role of health systems was highlighted in the quest of reducing inequality in health within societies.
Health literacy is a critical dimension of self-management that is often not properly addressed.
As part of COMPAR-EU, one of our PhD students from Nivel, Marieke van der Gaag, presented a poster about her PhD research plans (click on it to see it in full screen mode). With the title "Towards optimal self-management support for chronically ill with low health literacy levels", she attracted lots of interested delegates to discuss on how patients with low health literacy skills can be optimally supported in the self-management of their chronic disease. As part of her PhD, she will analyse which (elements of) existing self-management interventions (SMIs) are especially relevant and effective for these patient groups.
Finalising the analysis plan
In a two-day meeting on 27th and 28th of February in Barcelona, NIVEL, IR-HSCSP, UOI and FAD finalised the last details of the COMPAR-EU analysis plan. In this meeting, we've advanced our plans on how to deal with complex interventions in network meta-analysis (NMA) and how to best balance the trade-off between describing interventions in detail and ensuring that our NMA has enough statistical power. The whole discussion was based on the perspective of the end users of our results, with the goal of adding value to the knowledge on self-management of patients, professionals, industry, researchers and decision-makers. With this end-goal in mind we also worked on the last details of the coordination of all partners, covering all key steps of the effectiveness analysis: the extraction of data, data cleaning, descriptive analysis, GRADE quality analysis, pair-wise comparisons and NMA.
First Advisory Board Meeting
Our first COMPAR-EU Advisory Board meeting was a complete success! On 8th of February 2019 seven Advisory Board members came together with five COMPAR-EU team members in Paris. After giving an overview of the project and the progress to date, the exploitation of the project´s (expected) results was thoroughly discussed. Different stakeholder views were represented in the meeting: Patient, Clinician, Health Technology Assessment, Decision Aids and Patient Empowerment, Health System Innovation, Digital Health Investor, and Industry.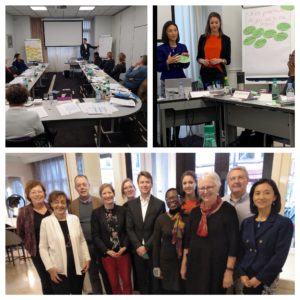 We appreciate all the valuable contributions helping to increase the project´s impact, the commitment of the members and the strong cooperation.
During the project timeframe of five years (till the end of 2022), the Advisory Board is expected to meet three times. In general, the Advisory Board advises the COMPAR-EU consortium on issues related to project goals and associated legal, ethical, and social issues. The members will play a key role in supporting the dissemination and exploitation of results.
Training sessions for COMPAR-EU data extractors
After completion of milestone 7 "Development of data extraction form, protocol, and guidelines and adaptation of software", we already had a technical face-to-face meeting on 4th and 5th of October in Utrecht. All researchers that extract data participated, namely FAD, IR-HSCSP, Nivel. UOI attended the meeting via Skype to provide input from the perspective of performing network meta-analysis. At this meeting, IR-HSCSP also led a risk of bias seminar. Another training session was held on 3rd and 4th of December on how to use the online extraction form. Everyone practiced by using the form based on real-case RCT data extraction to ensure inter-researcher reliability. A discussion followed in which the online form was further adjusted to maximise the clarity of its concepts and instructions. The team agreed on the dates and deadlines for the rest of the extraction process.
Consortium Meeting in Utrecht
All COMPAR-EU consortium partners met on 22nd and 23rd of November 2018 in Utrecht. At this year´s consortium meeting, every work package leader gave an update on the progress and discussed the work ahead. The presentations were accompanied by executive and interactive group discussions. Nice to see further progress in this interesting project on self-management!