COMPAR-EU is a multimethod, inter-disciplinary project that will contribute to bridging the gap between current knowledge and practice of self-management interventions. COMPAR-EU aims to identify, compare, and rank the most effective and cost-effective self-management interventions (SMIs) for adults in Europe living with one of the four high-priority chronic conditions: type 2 diabetes, obesity, chronic obstructive pulmonary
disease, and heart failure. The project will provide support for policymakers, guideline developers and professionals to make informed decisions on the adoption of the most suitable self-management interventions through an IT platform, featuring decision-making tools adapted to the needs of a wide range of end users (including researchers, patients, and industry).
News
After the first two rounds of COMPAR-EU´s Delphi survey in May and June, a consensus meeting took place on 10th [...]
An International Advisory Board is currently in the recruitment phase. The Advisory Board comprises around 10 members from different stakeholder [...]
On the 12th and 13th of April, we had our second meeting in Barcelona with our consortium partners FAD, EPF, [...]
Events
Face-to-face training sessions for all researchers that extract data will [...]
On 22nd and 23rd of November, our COMPAR-EU General Project [...]
Work Packages
COMPAR-EU is based on a multimethod, interdisciplinary approach. The project exists of three main phases and is divided into ten work packages (WP), integrating partners from Belgium, Germany, Greece, the Netherlands and Spain.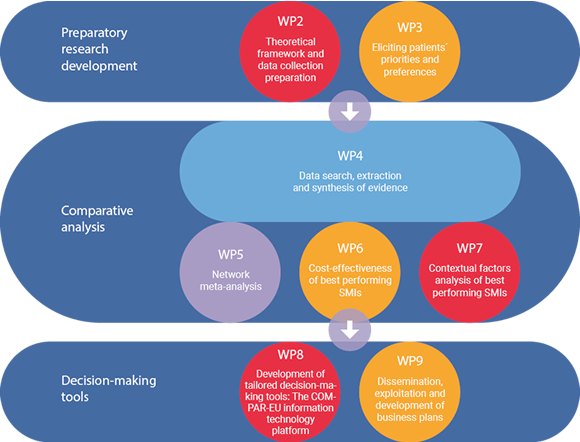 *WP1 and WP10 are not presented in the figure as they draw on the entire project. The objective of WP1 is to ensure compliance with the ethics requirements. WP10 addresses the overall strategic project coordination and management.