COMPAR-EU is a multimethod, inter-disciplinary project that will contribute to bridging the gap between current knowledge and practice of self-management interventions. COMPAR-EU aims to identify, compare, and rank the most effective and cost-effective self-management interventions (SMIs) for adults in Europe living with one of the four high-priority chronic conditions: type 2 diabetes, obesity, chronic obstructive pulmonary
disease, and heart failure. The project will provide support for policymakers, guideline developers and professionals to make informed decisions on the adoption of the most suitable self-management interventions through an IT platform, featuring decision-making tools adapted to the needs of a wide range of end users (including researchers, patients, and industry).
An EU-Funded Project Supporting Self-Management
Find out more about the project in this video.
Click here for Spanish subtitles!
Key elements & benefits of patient self-management
Thanks to all interviewee who participated in this video that we have recorded at the European Patients´ Forum Congress 2019.
News
Help us to improve health care of patients with COPD! Are you a patient with chronic obstructive pulmonary disease (COPD) [...]
How to successfully implement self-management interventions in real life contexts? Within COMPAR-EU we develop a core set of contextual factors [...]
EPF is planning to expand and diversify the group of patients and patient representatives involved in the COMPAR-EU patient panel. Do you live [...]
Events
Health Economics in a Time of Global Change. Soon, more [...]
The annual European Respiratory Society (ERS) International Congress is the [...]
The 1st North American Conference on Integrated Care will take [...]
Work Packages
COMPAR-EU is based on a multimethod, interdisciplinary approach. The project exists of three main phases and is divided into ten work packages (WP), integrating partners from Belgium, Germany, Greece, the Netherlands and Spain.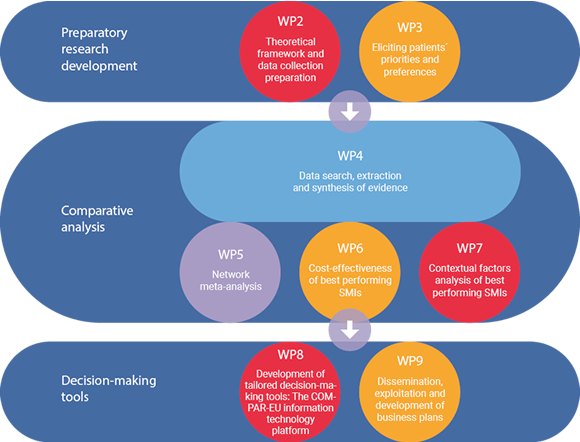 *WP1 and WP10 are not presented in the figure as they draw on the entire project. The objective of WP1 is to ensure compliance with the ethics requirements. WP10 addresses the overall strategic project coordination and management.